EKONOMIKA THROUGH TIME

The journal "Ekonomika" was initiated in July 1954. It was published as "Niš Economic Messenger"(He had ISSN) till June, 1957 and as "The Economic Messenger" (ISSN 0032-8987) till the end of 1969. The title "Science and Practice"(ISSN 0558-3063) it had till the issue 1/1973 when it changed its name into "Ekonomika" as it entitled today.
The Journal was initiated by the Society of Economists of Nis and the Society of Engineers and Technicians of Nis (the latter remained as the publisher till the end of 1964). The Society of Accountants became its publisher starting from the issue no. 6-7/1958. The Faculty of Economics, Niš, on the basis of its Resolution No. 04-2021 from December 26, 1991, became the co-publisher of "Ekonomika". Likewise, the Faculty of Economics of Priština became the co-publisher since in 1992.
Co-published "Economics" and the Institute of Agricultural Economics - Belgrade in January 2008, the Faculty of Business Studies and Law, Belgrade from November 2009, the Faculty of Management - Sremski Karlovci since November 2015. As co-published "Economics" have featured in the course of 1990-1996. and the Foundation for Scientific Work of the Municipality of Nis, the Institute for Spatial and Urban Planning of Nis and the Corporation Winner Broker, Nis. Marketing Association Nis region was co-editor in the period 1992-2010. years. Faculty of Business Assistance - Sremska Kamenica 2006-2015. , the Faculty of Industrial Management - Kruševac, 2009 to 2014 Alpha University, Belgrade 2010-2015. year.
The Republic Secretariat for Information of the Socialist Republic of Serbia, by its Resolution No. 651-126/73-02 from November, 27, 1974, approved of "Ekonomika's " requirement to be introduced into the Press Register. The Assembly of the Society of Economists of Nis, at its session on April 24, 1990, by its statutory resolution, confirmed the legal status of "Ekonomika". At the session of the Assembly of the Society of Economists, Nis, on November 11, 1999, the resolution was adopted the "Ekonomika" was to open its own bank account.
According to the Opinion of the Republic Secretariat for Culture of the Socialist Republic of Serbia No. 413-516/73-02 from July 10, 1973 and the Ministry for Science and Technology of the Republic of Serbia No. 541-03-363/94-02 from June 30, 1994, "Ekonomika" has the status of a scientific and national journal. Starting from 1995, "Ekonomika" has been having the status of international economic journal. "Ekonomika" is 1995th by 2006 had the status of an international journal. Since 2008 the 2011th The "Ekonomika" had the status of the scientific journal.
According to the categorization of the Ministry of Education and Science of the Republic of Serbia from 2012, "Ekonomika" has become journal of national importance and is marked M 52nd.

EDITORS: dr Jovan Petrović (1954-1958). Miodrag Filipović (1958-1962), Blagoje Matić (1962-1964), dr Dragoljub Stojiljković (1964-1967), dr Miodrag Nikolic (1967-1973), dr Dragoljub Simonović (1973-1984), dr Miodrag Jovanović (1984-3-4/1988) i dr Dragoljub Simonović (1990-till the present day)

Impact factors for 2012:
Bic impact factor 2:0,189 (Centre for Evaluation in Education and Science);
Index Copernicus ICV 2012: 3,85 Journal Master List;
SJIF 2012 = 3.241 (Scientific Journal Impact Factor Value for 2012)
Impact factors for 2013:
The Universal Impact Factor 2013: 0.7692;
Index Copernicus ICV 2013: 3,60 Journal Master List;
Jour Informatics Impact Factor 2013: 0,189
Bic impact factor 2:0, 327 (Centre for Evaluation in Education and Science);
Impact factors for 2014:
Index Copernicus ICV 2014: 78,14 Journal Master List;




Thematic areas
Journal Ekonomike promote original research in economics and other social sciences, providing access to academia, researchers, experts and policy-makers and practitioners on the ground in a highly competitive environment and science.
The journal publishes the results of research conducted in the following principal thematic areas:
Economy,

Monetary Economics,

Banking,

Marketing,

Management,

Agricultural Economics,

Law and Economics,

Economic History.

Types of manuscripts
Types of manuscripts to be submitted to the Editorial Board for review include the following:
Theoretical papers

Methodological problems

Conceptual models

Empirical research

Case studies

Book reviews

Announcements and reviews of scientific congresses in the country and abroad.


ANNOUNCEMENTS

News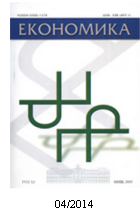 Dear readers, a new issue of Ekonomika jorunal has been released 1/2016
In December 2014, the journal is indexed Ekonomika and registered in the following databases:


Norwegian Social Science Data Services (NSD) was established with the purpose of being an archive for research data (primarily quantitative data), as well as a facilitator of these data so that they were made available for researchers and students. Today NSD AS also service a number of areas above primarily the public sector. Key partners include the National Statistics Norway (SSB), the Norwegian Research Council , Inspectorate , Ministry of Education , as well as throughout the higher education sector.
In April 2015, journal Ekonomika is indexed and registered in the following libraries and databases:

CNKI (www.cnki.net) is the largest aggregator and distributor of academic digital resources in China. CNKI has built a digital publishing platform to integrate all kinds of academic resources. Since 1996, CNKI has built the China Integrated Knowledge Resources Database, integrating more than a dozen resource types, such as Chinese and foreign academic journals, theses & dissertations, conference proceedings, newspapers, patents, standards, reference works, and books.

The Central European Journal Of Social Sciences And Humanities (CEJSH) was established in Visegrad on 27 October 2004, in accordance with a joint decision taken in Prague on 31 October 2003 by the Presidents of the Czech Academy of Sciences, the Polish Academy of Sciences (PAN), the Slovak Academy of Sciences and by the Secretary General of the Hungarian Academy of Sciences.
The objective was to establish an electronic, open-access database publishing English abstracts of articles and reviews that appear mostly in national languages in scientific journals devoted to social sciences and humanities in Czech Republic, Hungary, Poland, Slovak Republic as well as in Bosnia and Herzegovina, Estonia, Latvia, Lithuania, Serbia, Slovenia and Ukraine. In so doing the Academy Presidents aimed to boost the international visibility of scientific publications, which are frequently insufficiently well-known - even among close neighbors - in view of the language barrier and the limited circulation of most national journals.

In May 2015, journal Ekonomika is indexed and registered in the following libraries and databases:


ProQuest offers a wide array of content in many formats all of it geared toward supporting Federal and military libraries in the United States and abroad. It's the greatest expanse of high-quality research resources you'll find in any online service. ProQuest, are a leading innovator in academic library solutions drawing on 70 years of collaboration with academic libraries around the world to shape new information services and solutions. It work closely with their customers and advisory boards to understand what's coming next and to leverage the latest content and technology in new solutions that are tailored to emerging library needs to serve undergraduates, graduate school students, faculty, and researchers.

DOAJ aims is to increase the visibility and ease of use of open access scientific and scholarly journals, thereby promoting their increased usage and impact. The DOAprer all open access scientific and scholarly journals that use a quality control system to guarantee the content. In short, the DOAJ aims to be the one stop shop for users of open access journals.
To read more, please visit www.doaj.org